Medical tests to be perfomed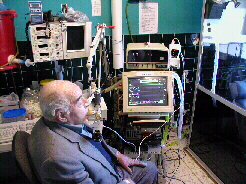 This is a sample of a complete medical Check-Up. Please note that some tests vary according to age, sex and specific medical problem.
Complete physical Examination
Head
Hair microscopic analisys
Eye fundus study
External ear examination
Audiometry
Nose examination
Mouth, gums, dental and throat examination
Head X-rays
CAT or NMR scan of the head
Neck
Carotid artery ultrasonography
Thyroid control
Chest
Chest X-rays (Postero-anterior Projection)
Chest X-rays (Lateral projection)
Chest X-rays (Oblique Projection)
Blood pressure (positional change)
Resting Electrocardiogram (12 lead)
Color Doppler Echocardiography
Exercise stress test:

Electrocardiography
Ventilation
Pulse-oximetry

Blood pressure
Pulmonary function studies

Forced vital capacity (Spirometry)
Flow-volume Curve
Nitrogen Washout
Breath-holding pulse-oximetry study
Position change ventilation studies
Arterial blood gases and acid-base equilibrium
Hypoxic chamber study
Abdomen
Abdominal x-rays
Liver and Gall bladder Ultra-sonography
Kidneys Ultra-sonography
Abdominal ultrasonographic scan
Laboratory:

Complete Urine analisis Macroscopic and Microscopic
Parasite feces study
Occult blood in feces
Blood Glucose
Total Bilirrubins, Direct and Indirect
Genitals:
Women:
Men:

PSA (prostate specific antigen)
Arms and legs:
Reflex studies
fingernail examination
pulse control
Orthopedic motility study
Venous circulation control by ultrasonography
Calcium
Psychological Evaluation
The cost of the medical test vary based on what tests will be required, after the initial medical consultation with the attending physician.