Symposium on the effect of
Chronic Hypoxia on Diseases at High Altitude
October 1 - 8, 2005





La Paz, Bolivia



by the organizers of the First World Congress on High Altitude Medicine and Physiology


High Altitude Pathology Institute and Zubieta University



www.altitudeclinic.com

On the 35th anniversary of the High Altitude Pathology Institute, Clinica IPPA and the foundation of the Zubieta University we are proud to invite you to a friendly ¨itinerant¨ and relaxed scientific and culture gathering in Bolivia with visits to medical centers and conferences that will begin in the city of La Paz, the world capital of hypoxia and the shrine of hypoxia scientists, and continue in Tiahuanacu (Pre-Inca ruins), Calamarca (to visit the museum of the Angels), Oruro (Casa de Simon I. Patiño, one of the richest men in the world, the Tin king), Potosi (Cerro Rico 'the city of the rich silver mines') and the Titicaca Lake (The highest lake in the world).
Itinerant stands for continued conferences in the places of visit.

Link to Titicaca Lake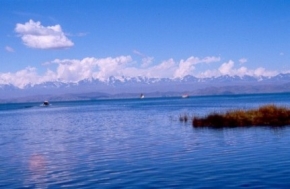 Potosi
Invited Scientists:
Prof. Poul-Erik Paulev, Denmark
Prof. Mieczyslaw Pokorski, Poland
Prof. Thuppil Venkatesh, India
Prof. Vidyasagar Casikar, Australia
Prof. Inder Annand, US
Prof. Gustavo Zubieta-Castillo, Bolivia
Prof. Gustavo Zubieta-Calleja, Bolivia
Prof. Ole Siggaard-Andersen, Denmark
Prof. Joop Madsen, Denmark
Prof. John B. West, USA
--------------------
Other participants:
Prof. Michiro Nakashima, Japan
Prof. Paul Begin, Canada
K.S. Parthasarathy, India
Prof. Wu Tianyi, China
Prof. Dante Peñaloza, Peru
Prof. Hanns Christian Gunga, Germany


and others not yet confirmed

Subjects of interest: Chronic Mountain Sickness
Carotid body and high altitude
Disease at high altitude
Diving at high altitude in Lake Titicaca 3900 m


Colleagues interested in presenting their work in these areas are welcome. Please inquire below
The scientific program will be developed in August.

Link to the organizers web page:
High Altitude Pathology Institute

---
Activities Program Scientific Program (not yet available) Registration (March 25) Organizers Inquire

---
La Paz, Feb 10, 2005

Back to Symposium home page